What's on in the Maker Workshop
---
July to September
Community led activities
Individuals and community groups will be undertaking a range of creative events and workshops in the Maker Workshop. If you're a creative person or organisation interested in running an event or workshop, please email us here.
Lots of these events are open to the public for free or at a cost. See below for a list of planned activities and details of how to find out more:
..........................................................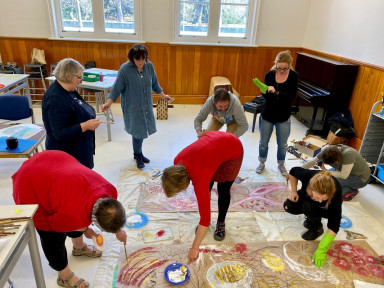 Facing the Blank Canvas - a space for creativity and mindfulness

Date: Saturday 24 and Sunday 25 October 2020

Time: 10-4pm each day

Venue: Maker Workshop, Arts Centre, 1 Hereford St, Christchurch (the entrance is opposite the YMCA).

Cost: $125 for both days.
Bookings essential. Email: jo@thefeathersproject.com
Maximum 8 participants.
Suitable for adults
Visit https://www.thefeathersproject.com/facing-the-blank-canvas.html.

In this workshop we will explore what it means to 'Face the Blank Canvas' - both in art and in life. Can we bring self compassion, playfulness and bravery to the uncertainties and possibilities of any 'blank canvas moment'?

The workshop will not teach a particular art technique or media such as acrylics or pastels. Instead it will explore the inner workings of creativity and how to nourish a gentle approach to get beyond our creative blocks and inner critic.

This is a safe space for beginners and experienced artists to step beyond our comfort zones, and play our way past the fear of messing up! We'll use pastels and paints to create layers of colour, adding mindful marks as a way of expressing ourselves in the moment. Together let's see if we can discover more ease and nourishment in the creative process, and bravely befriend those blank canvases.

(For those who attended Jo's previous workshop at the Arts Centre - this one will involve some of the same activities but at a slower pace, and in more depth. There will also be new activities and more time to make the links between art and life, and to bring mindfulness and spaciousness to the process.) ​
What you will need to bring: All materials provided. No previous experience necessary. BYO lunch and water-bottle. Please wear clothes you don't mind getting a bit messy.
..................................................................

Itzybitzy
3 November 2020
6.30pm – 8.30 pm
Suitable for everyone
Koha $5.00
Itzybitzy in conjunction with Artlab, invites you to a Jewellery Refashioning Workshop. You will be given the opportunity to create a pair of earrings or bracelet. Itzybitzy's designers will assist you with your creations, providing you with a variety of resource to choose from. With a focus on reusing broken jewellery. Learn a passion for refashion. If you have resources of your own you are welcome to bring them along.
For more information and to book contact, Liana Paenga-Price 021 165 2210, paenga.l@gmail.com